Home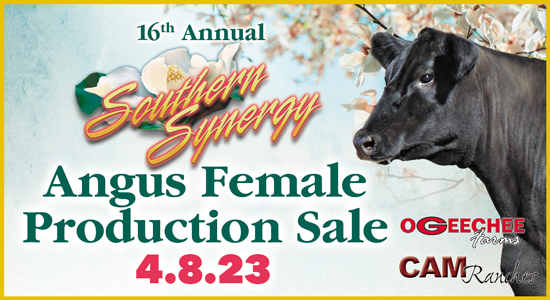 16th Annual
Southern Synergy Angus Female Production Sale
April 8, 2023 • 12 Noon
Hosted by Ogeechee Angus at our farm
(200 Robert Johnson Road • Midville, GA 30441)
Join us in person or watch the sale and bid live online at Cci.Live.
Selling Approximately 140 Registered Females
Offering genetics with our Southern Synergy partner, CAM Ranches
Angus females designed with a focus on calving ease, maternal excellence, growth and end product merit.
• 31 Fall Heifer Donors
• 4 Three-Year-Old Bred Donors
• 5 Cow-Calf Pairs
• 19 3- to 5-Year-Old Bred Cows
• 80 Fall Bred Heifers
Ogeechee Angus bulls sell in these upcoming Gardiner Angus Ranch sales
44th Annual Spring Production Sale • April 1, 2023
8th Annual Meating Demand Bull Sale • May 1, 2023
19th Annual Fall Production Sale • September 25, 2023
7th Annual Early Bird Bull Sale • January 22, 2024
The Southern Synergy partnership between CAM Ranches and Ogeechee Angus Farms is a commitment to designing better beef using the most accurate and reliable tools available to seedstock producers. The results are some of the most predictable females available in the Angus breed today. Their sibling brothers compete at the highest level and are marketed at Gardiner Angus Ranch in their four sales each year. The opportunity for profitability reaches every segment of the supply chain.
© • All Rights Reserved • Ogeechee Farms, PO Box 820, Wadley, GA 30477
(706) 551-2878 (Clint) • (229) 646-4785 (Smitty) and Designed by Cogent Ideas Inc